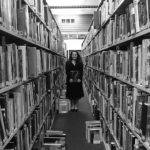 Born 1996, Tāmaki Makaurau, Aotearoa (Auckland, New Zealand)
Lives and works in Tāmaki Makaurau, Aotearoa (Auckland, New Zealand)
Roma Anderson is a Pākehā artist who explores the ecological vulnerability of Aotearoa's waterways in contemporary society.
The Tāmaki River is an estuarial arm and harbour of the Hauraki Gulf, in Auckland, New Zealand. The waterway was originally known as Te Wai o Taiki, meaning "The Waters of Taiki". Taiki is an abbreviation of Taikehu, who was an ancestor of Ngāi Tai, the Māori tribe which occupied some areas along the Hauraki Gulf. The river extends south of the gulf for 15 kilometres, branching off into smaller creeks. Anderson works exclusively with the Tāmaki River and its culverts, streams and estuaries, documenting the sites photographically; producing polaroid and film photographs. She has documented Te Kopua Kai a Hiku (Panmure Basin), Ō Huiarangi (Pigeon Mountain), Te Naupata (Musick Point), Half Moon Bay, Bucklands Beach and Pakuranga's Tāmaki Estuary and Tāmaki Bay.
Anderson is an analogue and digital alternative method artist, her practice encompasses photography, moving-image, 3D-modelling and augmented-reality.
Anderson grew up along the Tāmaki River, and sees the estuary as a sentient entity. Drawing from the fields of spirit photography, vibratory modernism, and photography and the occult, Anderson reconceives the photographic encounter as an exchange of agency and energy. She understands film to be a sensitive medium that is able to record environmental and psychic forces; each photograph an object co-authored by the artist and the environment. Anderson aims to act as a conduit for the agency of environments and deconstruct how they are framed and valued, both aesthetically and politically. She sees the translation of data, and the resulting loss of information, as analogous to the entropy of natural environments due to pollutants and urbanisation. In her moving-image practice, Anderson utilises algorithms that deconstruct the pixels of her photographs, joining them together in new abstract and confronting works that protest the marginalisation of the waterway. She aims to provide a space where the river can have a voice and be heard as an equal, creating striking imagery that writhes across the screen and cannot be ignored. 
Recently, Anderson has employed photogrammetry to generate three-dimensional forms from polaroid photographs. Photogrammetry uses photography to measure distance, and Anderson uses this to generate new "organisms" from sections of photographic data. Informed by Lauren Fournier's accounts of "auto-theory" and a "fermenting feminism", she places the biological reproduction of mangroves alongside an autobiographical account of fertility and the artistic act of creating new forms. In addition, reproduction is explored alongside the generative processes present in computational and algorithmic practice. Anderson see the forms she produces as live organisms with their own agency, equivalent to their parent material, but also as independent entities. The photographic series takes on new biological and maternal connotations, with images from the same origin producing expressing similar characteristics. She constructs new habitats from these characteristics, animating the forms and bringing them into real, human space through live augmented-reality installations.
Education
2020-: PhD in Fine Arts, Elam School of Fine Arts, The University of Auckland, Auckland, New Zealand
2019: Master of Fine Arts, Elam School of Fine Arts, The University of Auckland, Auckland, New Zealand
2018: Bachelor of Fine Arts (First-class Honours), Elam School of Fine Arts, The University of Auckland, Auckland, New Zealand
Selected Exhibitions
2019
2019: Avicennia, Elam Graduate Show, Elam School of Fine Arts, Auckland, New Zealand
2019: Geometry of Thought, Pah Homestead, Auckland, New Zealand (curator, group show) – Roma Anderson, Gregory Bennett, Sara Hughes, Shannon Novak, Ben Robertson, Kāryn Taylor, Andre Tjaberings, Peter Trevelyan
2019: Breath Carrier, Second Prize, Estuary Art and Ecology Prize 13, Malcolm Smith Gallery, Howick, Auckland, New Zealand (group show) – judged by Dr. Janine Randerson
2019: Dew Point, Capture Community, Comet Projectspace, Ponsonby, Auckland, New Zealand
2019: Kin or Kindred, Rhizome and Disposition, Malcolm Smith Gallery Showcase, Howick, Auckland, New Zealand
2018
2018: Inside Voices, Elam Graduate Show, Elam School of Fine Arts, Auckland, New Zealand
2018: Aura, Finalist, Estuary Art and Ecology Prize 12, Malcolm Smith Gallery, Howick, Auckland, New Zealand (group show) – judged by Paul Brobbel
2018: Skylight, City Lights, Auckland Art Week, Comet Projectspace, Ponsonby, Auckland, New Zealand
2018: Latitude, Longitude and Compass, Axiom, George Fraser Gallery, Auckland, New Zealand (group show)
2017
2017: Liminal, Estuary Art and Ecology Prize 11, Malcolm Smith Gallery, Howick, Auckland, New Zealand (group show)
Collections
2019
2019: Wallace Arts Trust, Auckland, New Zealand
Awards
2020
2020-: Doctoral Research Scholarship, The University of Auckland
2019
2019: Breath Carrier, Second Prize, Estuary Art and Ecology Prize 13, Malcolm Smith Gallery, Howick, Auckland, New Zealand (group show) – judged by Dr. Janine Randerson
2019: Joe Raynes Scholarship in Design, The University of Auckland
2018
2018: Transit, Honorable Mention, MonoVisions Photography Awards, Series: Nature and Wildlife category
2018: Summer Research Scholarship, The University of Auckland
2017
2017: Liminal, Merit Award, Estuary Art and Ecology Prize 11, Malcolm Smith Gallery, Howick, Auckland, New Zealand (group show) – judged by Ane Tonga